2023 Holi Celebrations (SOLD OUT)
SOLD OUT (See you at summer picnic) 
Due to limited capacity our  2023 Holi Fest tickets are SOLD OUT. Looking forward to see you at annual summer picnic.
For those who already bough ticket, we are looking forward to meet you.
Date : March 11th 2023, Saturday | 6:30 PM ET
Location : Clifton Park Senior Community Center (6 Clifton Common Blvd, Clifton Park, NY 12065)
2020 NIHAA Diwali event was cancelled due to COVID-19. However, NIHAA kids showed the festival spirit by actively participating in the online Diwali Drawing Event organized by NIHAA volunteers.  Participation certificates and rewards were mailed to each participant.
You will be amazed by the young talent and creativity. Check out the snap shot of drawings link here.
We owe front-line workers a debt of gratitude for their courage and compassion.
On Saturday, July 18, 2020 we at NIHAA under guidance of our core senior member Dr. Suresh Bhate and our President – Mr. Amritesh Singh Gahlot, decided to show our gratitude and thankfulness to our frontline workers.
Read blog post on this event.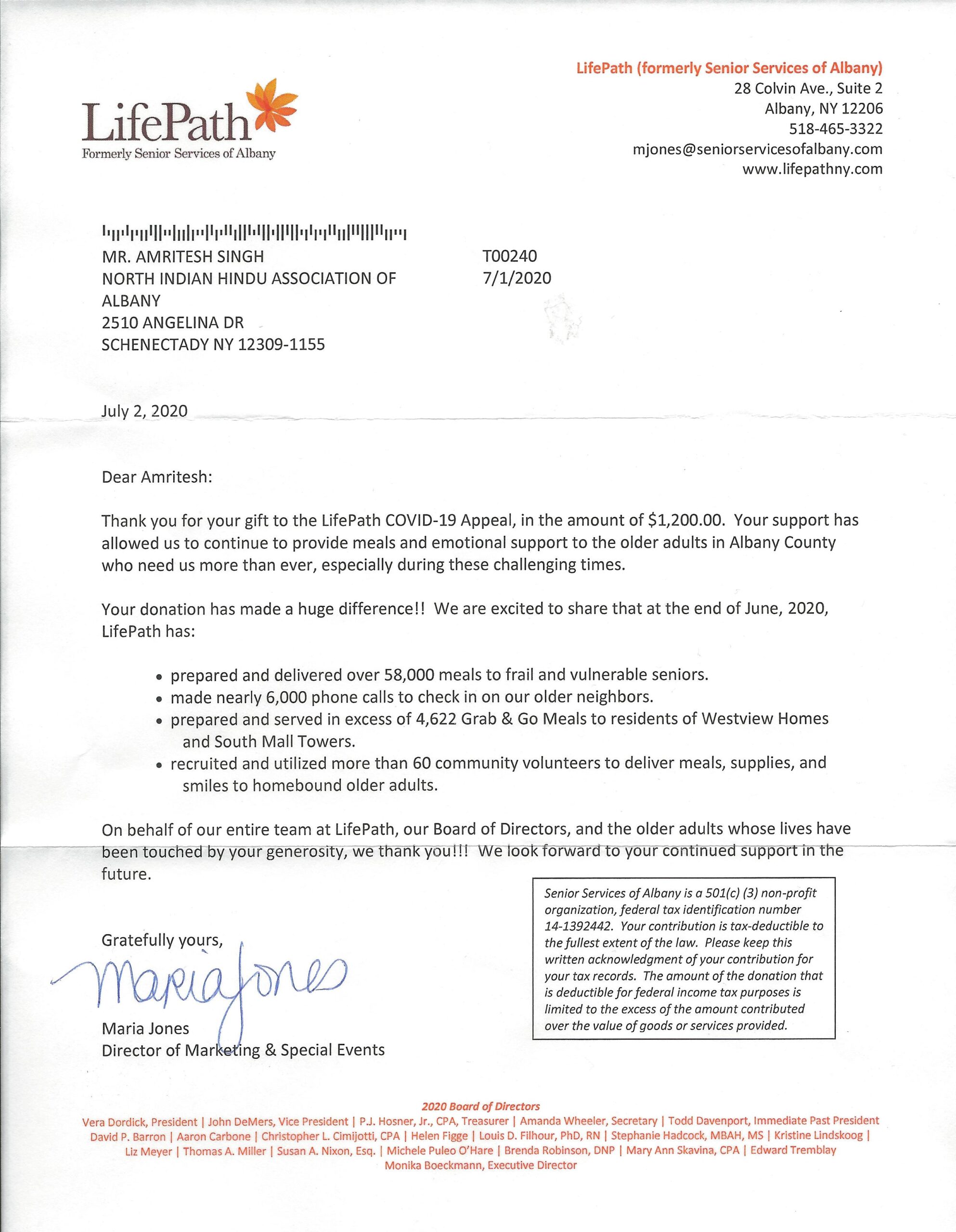 Appriciation from LifePath to NIHAA on COVID-19 fund raiser.
Deepavali or Diwali means "a row of lamps" in Sanskrit, A Festival of Lights, Togetherness and Happiness, which was celebrated by NIHAA for 2nd time in a row with great aplomb and perfection to its core.
The essence of Diwali is to brighten our hearts and mind and NIHAA Volunteers worked effortlessly to bring in communities together to light up our heart and mind on October 13th Sunday evening. This evening witnessed celebration that started with great fanfare and celebrated everything that is good, kind and positive. A big shout out for NIHAA Organizers, Sponsors and its Volunteers who worked endlessly to create this Diwali celebration memories in our hearts forever!
Read blog post on this event.
विद्यां ददाति विनयं।
अर्थ- विद्या विनय देती है, विनय से पात्रता आती है, पात्रता से धन आता है, धन से धर्म होता है.
On Oct-19th 2019 NIHAA and Ekal Vidayala had conducted a joint information session on Ekal Abhiyan.
Ekal Abhiyan is the umbrella organisation inspiring the setup of single teacher schools across rural and tribal India. These schools are known as Ekal Vidyalayas.
Being a non-profit  organization NIHAA joined hands with another non-profit organization Ekal Vidayala on a mission to bring basic education to every child across rural India.
If this event inspires you enough, then use below contact form and join NIHAA.
Contact Us
Saturday 21st September 2019 @10:30 am.
NIHAA Organization members were invited by Hindu Temple Society Management under Adopt a Highway program for "Cleanup" drive.
Ashish Misra, Varun Mishra, Om Roy, Pankaj Kumar, Amritesh Singh from NIHAA & Ashish Jain from Temple participated in this clean up drive!
Read blog post on this event.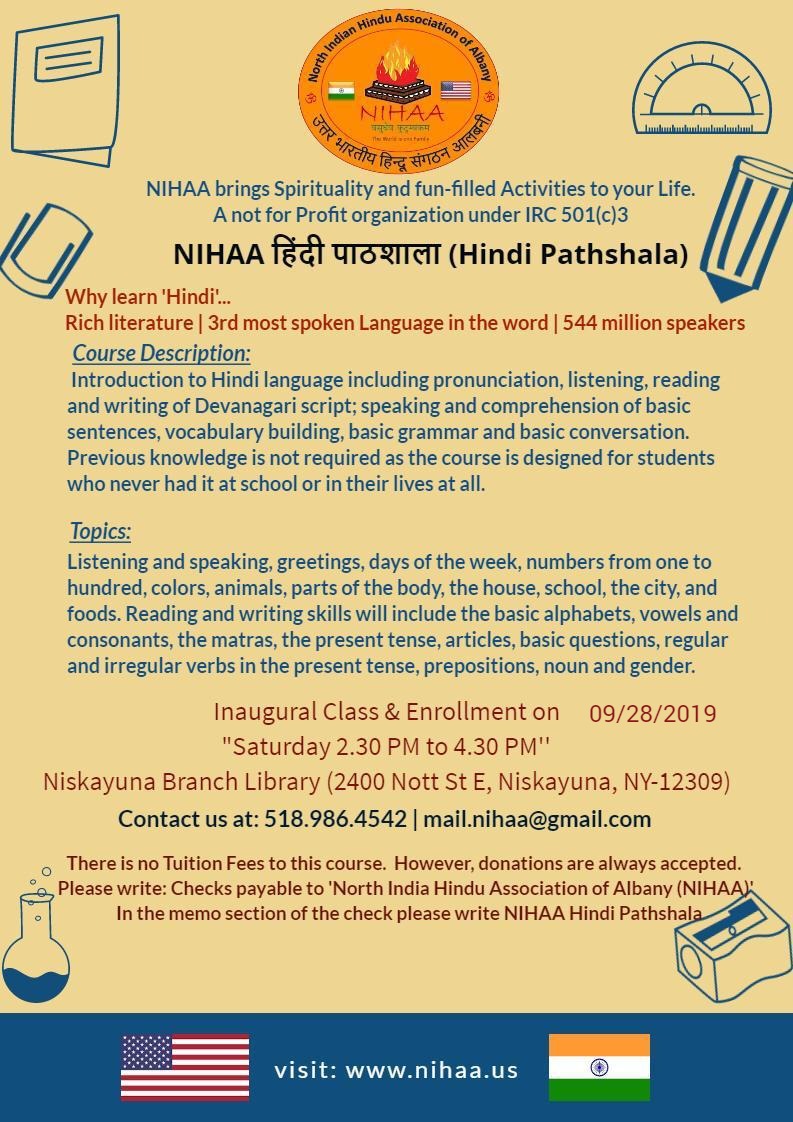 July 14th, 2019 was the date we planned our 2nd Annual NIHAA Summer Picnic.
Dreaming about summer always brings certain images to mind, and the fondest memories are that of our picnic time spend with our families. So, as NIHAA family or as ONE Kutumbh, we wished to reminisce our good old times, and spend some memorable time with each other, sitting on summer picnic table with crusty appetizers and yummy food, day at the beach with friends and long walks in the sun.
Further click here to continue reading about our blog post on this event, and if this inspires enough then :-
Contact Us
उद्यमेन हि सिद्ध्यन्ति कार्याणि न मनोरथैः।
Meaning: Task can be accomplished only through proactive enthusiasm, never by
imaginary thoughts alone.
On April-27th & 28th with this mantra in mind, NIHAA made an unparalleled effort in organizing "Shram-Daan Diwas" (Volunteer Community Service Work) Weekend at YMCA camp Chingachgook. It was an experience of a
lifetime, to give back to the community, and all volunteers worked exceptionally hard towards a common
goal set by the organization.
We met some incredible people but most important of all, we had the pleasure to meet, play and interact with the strongest of human beings – the children of our group.
Further click here "Shram-Daan Diwas" to continue reading about our blog post on this event, and if this inspires enough then :-
Contact Us
Popular festival Holi was be celebrated by NIHAA members on March/16th at  Party Hall, At Regency Park Apartment, Guilderland . Holi is celebrated as a festival of color, the festivities officially usher in spring,  team NIHAA had a memorable evening with fun, food, family and music. Visit our photo gallery to get a glimpse of event.
According to Bhagvata Purana, King Hiranyakashipu--the king of demonic Asuras called himself God, Prahlada, disagreed and chose to remain devoted to Vishnu. One of Hiranyakashipu's attempts to kill Prahlada was to have him sit on a burning pyre with his sister Holika. Holika had a special gift that prevented her from being harmed by fire. Prahlada chanted Vishnu's name and in the battle of good against evil, Holika was burnt down but nothing happened to Prahlad. The burning of Holika is celebrated in Hinduism as the festival of Holi
Contact Us
Deepawali,  festival of  lights was celebrated by NIHAA on eve of Nov 3rd 2018. The event started with Laxmi Pujan, Rangoli, Deepawali quiz, games , food and fun. More than 100 people joined us on this major cultural event.
This festival is celebrated in the Hindu month of Kartikamasam which falls sometime during October or November. It is celebrated to mark the return of Lord Rama from 14 years of Exile and his victory over the Demon Ravana.
Contact Us
The Surya Namaskar Yagna was organized by NIHAA on Saturday February-2nd, 2019 at the Bethlehem Public Library Community Room.
Shri. Bhasker Kende and Shri. Sumedh Deshpande of HSS (Hindu Swayamsevak Sangh) gave us demonstration on Surya Namaskar and the health benefits of Surya Namaskar and Yoga. The two HSS Sevaks were very dedicated to the promotion of Hindutatva and the presentation, games, singing and discussion was very inspiring to the attendees. The attendees'energy, understanding, and passion for Sanatan Dharma was very inspiring and the dedicated group of Hindu Volunteers will be making positive impact in the world.
Visit photo gallery
What is NIHAA ?
North Indian Hindu Association of Albany(NIHAA)  is organization formed by a few enthusiast with heritage from Northern Part of India , living in NY Capital region of Albany.
In course of time , the small organisation has spread out to a truly diversified community with a vision to ensure cross cultural interaction among the North Indian diaspora of Albany,NY . NIHAA organizes several meets and events which celebrate the North Indian diversity in its best flavor. NIHAA is committed to do community service across USA and India. Very recently we completed a group blood donation activity in Albany Capital Region.
The NIHAA, Albany NY is an unique Socio Cultural Organization which is truly promoting Indian Culture and community spirit in USA. Dedicated to the goal of preserving, promoting and enhancing an understanding of Indian culture and its values among our children and other communities . Fostering community spirit among Indian nations in Albany Capital Region, the Association has grown to become one of the foremost organizations of its kind and represents over 100s of families today. It conducts a number of events and programs for its members throughout the year.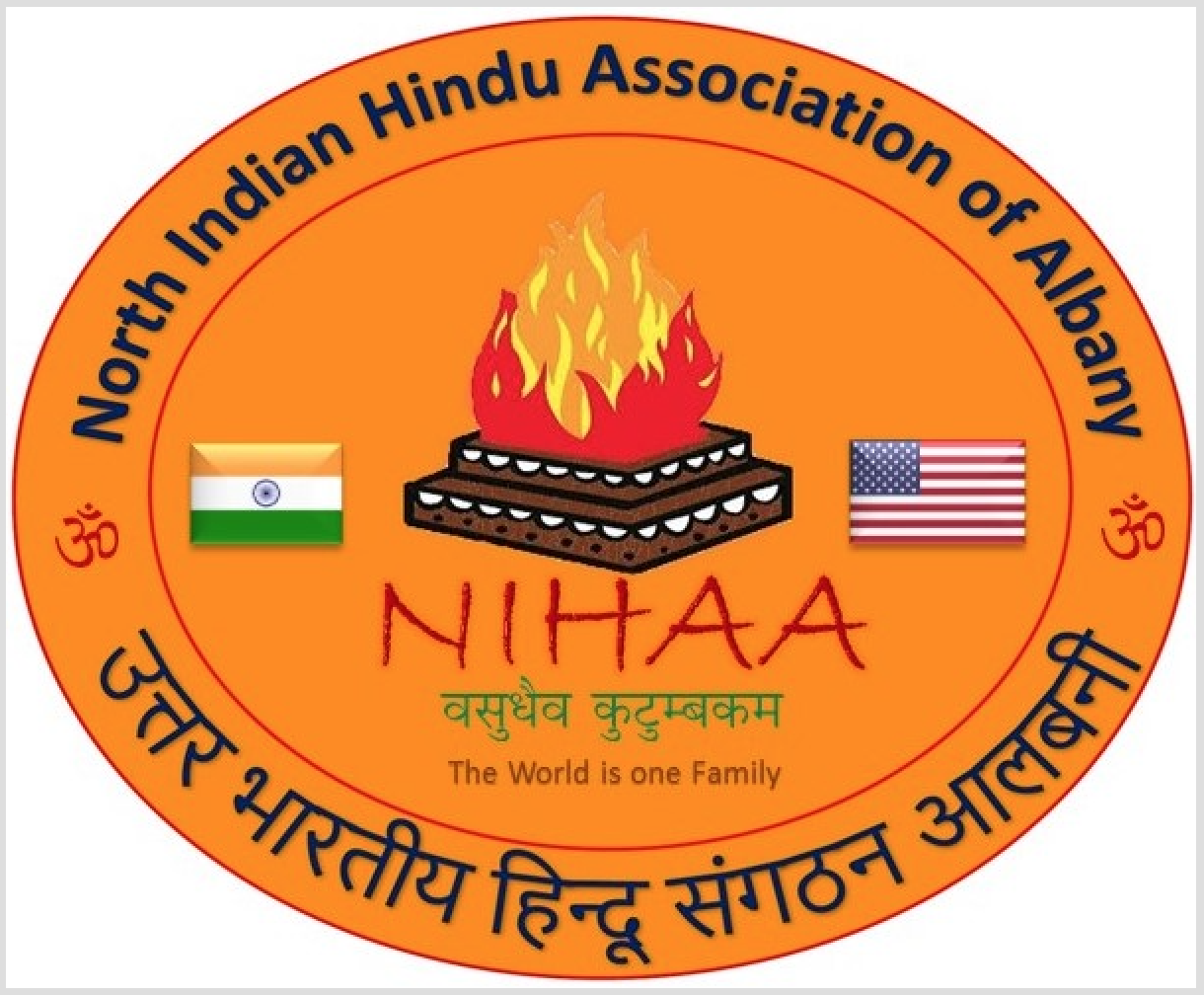 What are you wating for? get connected ...
If you think you are like minded, you have same mission and vision, if you want to join NIHAA or if you are new in Albany Capital Region and you need any help..get connected to us..